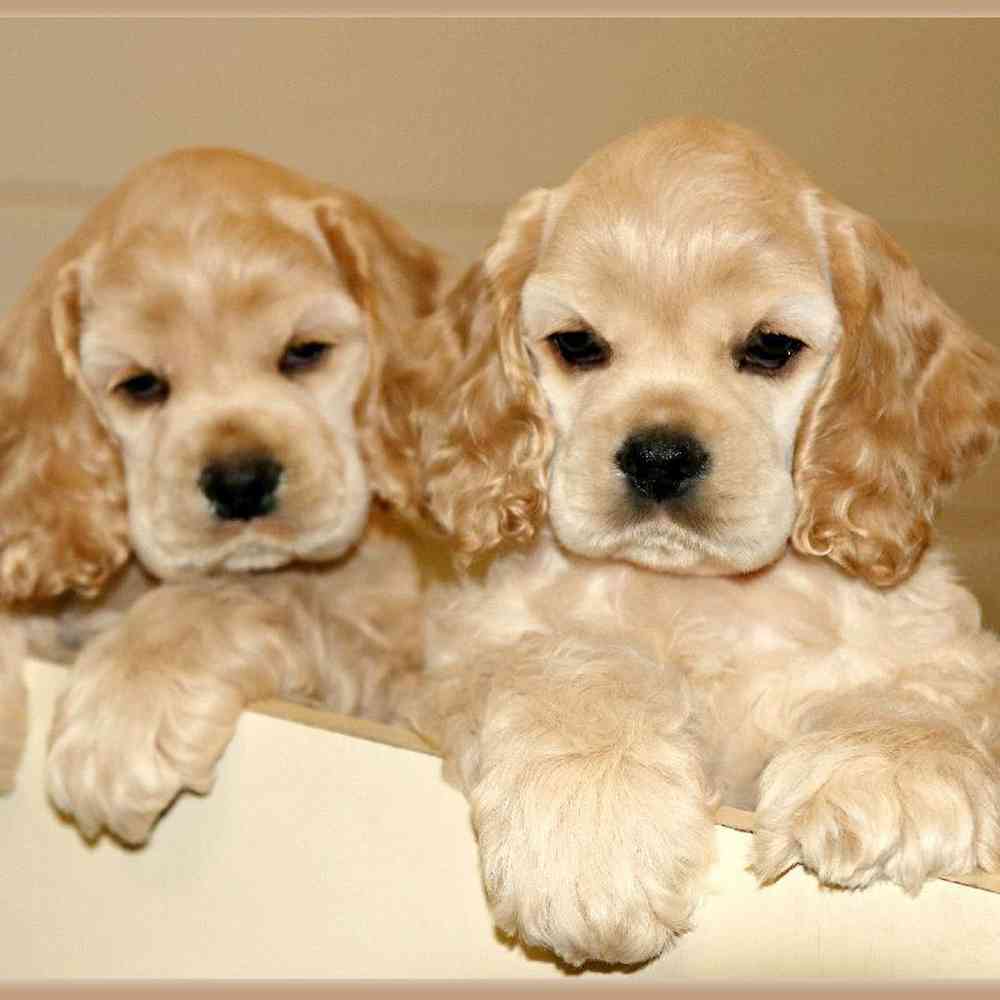 Cocker Spaniel
Otherwise known as:
American Cocker Spaniel
The merry and frolicsome Cocker Spaniel, with his big, dreamy eyes and impish personality, is one of the world's best-loved breeds. They were developed as hunting dogs, but Cockers gained their wide popularity as all-around companions.
---
Clubs, Registries & Associations
American Canine Association Continental Kennel Club Universal Kennel Club International American Kennel Club United All Breed Registry America's Pet Registry, Inc. United Kennel Club (Based on breed recognition. See store for details on this particular puppy.)
Heritage
The American Cocker Spaniel was bred from the English Cocker Spaniel, and that breed dates back to the 14th century. Today's Cocker Spaniel is an excellent hunting breed, flushing and retrieving game from both wet and dry land. In addition to hunting and retrieving, the Cocker Spaniel is well known for tracking, agility and competitive obedience.
Description
Medium, up to 14-16" at the shoulders, weighing anywhere from 15-30 pounds. The Cocker Spaniel is a durable and sturdy dog with a long, silky coat that can be slightly wavy and comes in colors of black, liver, red, gold, roan and tan, tri-color and parti colors.
Health Awareness
The Cocker Spaniel has a life expectancy of 12-15 years and is prone to eye disorders, patellar luxation, hip dysplasia, ectropion, entropion, PRA, skin allergies, cardiomyopathy, liver disease, Immune Mediated Hemolytic Anemia, and gastric torsion.
Personality
The Cocker Spaniel is cheerful, sweet and charming when socialized well as a puppy. This breed can become shy and/or aggressive if not socialized well and given plenty of daily exercise and mental stimulation. The lack of socialization, exercise and mental stimulation can result in many serious behavior issues including destruction, submissive urination, guarding of food/toys/space, hyperactivity and fear biting. When you meet this breed's needs, you will have a wonderful and loving companion.
Exercise/Energy Level
The Cocker Spaniel is a busy and active breed, and requires a brisk daily walk and plenty of off-leash play and running in a safe, fenced area. They also need mental stimulation to prevent boredom and destruction, so be sure to provide your Cocker Spaniel with plenty of interactive toys that challenge their problem-solving skills.
Additional Information
 Grooming Requirements:   Requires daily brushing and professional grooming to prevent matting  Coat: Long  Shedding: Average shedding  Hypoallergenic: No  Apartment Living: Good for apartment living if given sufficient exercise  Lap Dog: No  Good With Children: Better with older children who understand how to respect this breed  Good With Other Pets: Good with other dogs when socialized at an early age; not trustworthy with small and non-canine pets.
General Appearance
The Cocker Spaniel is the smallest member of the Sporting Group. He has a sturdy, compact body and a cleanly chiseled and refined head, with the overall dog in complete balance and of ideal size. He stands well up at the shoulder on straight forelegs with a topline sloping slightly toward strong, moderately bent, muscular quarters. He is a dog capable of considerable speed, combined with great endurance. Above all, he must be free and merry, sound, well balanced throughout and in action show a keen inclination to work. A dog well balanced in all parts is more desirable than a dog with strongly contrasting good points and faults.
Size, Proportion, Substance
Size-- The ideal height at the withers for an adult dog is 15 inches and for an adult bitch, 14 inches. Height may vary one-half inch above or below this ideal. A dog whose height exceeds 15½ inches or a bitch whose height exceeds 14½ inches shall be disqualified. An adult dog whose height is less than 14½ inches and an adult bitch whose height is less than 13½ inches shall be penalized. Height is determined by a line perpendicular to the ground from the top of the shoulder blades, the dog standing naturally with its forelegs and lower hind legs parallel to the line of measurement. Proportion--The measurement from the breast bone to back of thigh is slightly longer than the measurement from the highest point of withers to the ground. The body must be of sufficient length to permit a straight and free stride; the dog never appears long and low.
Neck, Topline, Body
Neck--The neck is sufficiently long to allow the nose to reach the ground easily, muscular and free from pendulous "throatiness." It rises strongly from the shoulders and arches slightly as it tapers to join the head. Topline--sloping slightly toward muscular quarters. Body--The chest is deep, its lowest point no higher than the elbows, its front sufficiently wide for adequate heart and lung space, yet not so wide as to interfere with the straightforward movement of the forelegs. Ribs are deep and well sprung. Back is strong and sloping evenly and slightly downward from the shoulders to the set-on of the docked tail. The docked tail is set on and carried on a line with the topline of the back, or slightly higher; never straight up like a Terrier and never so low as to indicate timidity. When the dog is in motion the tail action is merry.
Forequarters
The shoulders are well laid back forming an angle with the upper arm of approximately 90 degrees which permits the dog to move his forelegs in an easy manner with forward reach. Shoulders are clean-cut and sloping without protrusion and so set that the upper points of the withers are at an angle which permits a wide spring of rib. When viewed from the side with the forelegs vertical, the elbow is directly below the highest point of the shoulder blade. Forelegs are parallel, straight, strongly boned and muscular and set close to the body well under the scapulae. The pasterns are short and strong. Dewclaws on forelegs may be removed. Feet compact, large, round and firm with horny pads; they turn neither in nor out.
Hindquarters
Hips are wide and quarters well rounded and muscular. When viewed from behind, the hind legs are parallel when in motion and at rest. The hind legs are strongly boned, and muscled with moderate angulation at the stifle and powerful, clearly defined thighs. The stifle is strong and there is no slippage of it in motion or when standing. The hocks are strong and well let down. Dewclaws on hind legs may be removed.
Coat
On the head, short and fine; on the body, medium length, with enough undercoating to give protection. The ears, chest, abdomen and legs are well feathered, but not so excessively as to hide the Cocker Spaniel's true lines and movement or affect his appearance and function as a moderately coated sporting dog. The texture is most important. The coat is silky, flat or slightly wavy and of a texture which permits easy care. Excessive coat or curly or cottony textured coat shall be severely penalized. Use of electric clippers on the back coat is not desirable. Trimming to enhance the dog's true lines should be done to appear as natural as possible
Color
Black Variety--Solid color black to include black with tan points. The black should be jet; shadings of brown or liver in the coat are not desirable. A small amount of white on the chest and/or throat is allowed; white in any other location shall disqualify. Any Solid Color Other than Black (ASCOB)--Any solid color other than black, ranging from lightest cream to darkest red, including brown and brown with tan points. The color shall be of a uniform shade, but lighter color of the feathering is permissible. A small amount of white on the chest and/or throat is allowed; white in any other location shall disqualify. Parti-Color Variety--Two or more solid, well broken colors, one of which must be white; black and white, red and white (the red may range from lightest cream to darkest red), brown and white, and roans, to include any such color combination with tan points. It is preferable that the tan markings be located in the same pattern as for the tan points in the Black and ASCOB varieties. Roans are classified as parti-colors and may be of any of the usual roaning patterns. Primary color which is ninety percent (90%) or more shall disqualify. Tan Points--The color of the tan may be from the lightest cream to the darkest red and is restricted to ten percent (10%) or less of the color of the specimen; tan markings in excess of that amount shall disqualify. In the case of tan points in the Black or ASCOB variety, the markings shall be located as follows: A clear tan spot over each eye; On the sides of the muzzle and on the cheeks; On the underside of the ears; On all feet and/or legs; Under the tail; On the chest, optional; presence or absence shall not be penalized. Tan markings which are not readily visible or which amount only to traces, shall be penalized. Tan on the muzzle which extends upward, over and joins shall also be penalized. The absence of tan markings in the Black or ASCOB variety in any of the specified locations in any otherwise tan-pointed dog shall disqualify.
Gait
The Cocker Spaniel, though the smallest of the sporting dogs, possesses a typical sporting dog gait. Prerequisite to good movement is balance between the front and rear assemblies. He drives with strong, powerful rear quarters and is properly constructed in the shoulders and forelegs so that he can reach forward without constriction in a full stride to counterbalance the driving force from the rear. Above all, his gait is coordinated, smooth and effortless. The dog must cover ground with his action; excessive animation should not be mistaken for proper gait.
Temperament
Gentle, Smart, Happy
Disqualifications
Height--Males over 15½ inches; females over 14½ inches. Color and Markings--The aforementioned colors are the only acceptable colors or combination of colors. Any other colors or combination of colors to disqualify.Black Variety--White markings except on chest and throat. Any Solid Color Other Than Black Variety--White markings except on chest and throat. Parti-color Variety--Primary color ninety percent (90%) or more. Tan Points--(1) Tan markings in excess of ten percent (10%); (2) Absence of tan markings in Black or ASCOB Variety in any of the specified locations in an otherwise tan pointed dog.
About
Those big, dark eyes; that sweet expression; those long, lush ears that practically demand to be touched—no wonder the Cocker spent years as America's most popular breed. The Cocker is the AKC's smallest sporting spaniel, standing about 14 to 15 inches. The coat comes in enough colors and patterns to please any taste. The well-balanced body is sturdy and solid, and these quick, durable gundogs move with a smooth, easy gait. Cockers are eager playmates for kids and are easily trained as companions and athletes. They are big enough to be sporty, but compact enough to be portable. A Cocker in full coat rewards extra grooming time by being the prettiest dog on the block. These energetic sporting dogs love playtime and brisk walks.
History
The spaniel is a breed type of great antiquity, believed to have originated in Spain (the words "Spain" and "spaniel" being closely related). Spaniels have been bird hunters' helpers since before the development of the rifle, when hunting dogs were used in tandem with nets. For centuries, European and British spaniels were informally grouped as simply land spaniels and water spaniels. By the 19th century, however, when written breed standards, dog shows and field trials, and the very notion of purebred dogs began to gain traction in England, the various spaniels were classified as specific breeds. Among them was the Cocker, so called because they specialized on woodcock. These dogs, smaller than English Springer Spaniels but larger than English Toy Spaniels, were the ancestors of the modern Cocker Spaniel. In America the Cocker Spaniel diverged into two varieties, American and English. The English was characterized as being taller and with a longer head than its American cousin, with a coat that was not as profuse. The English and Canadian kennel clubs registered the varieties as separate breeds beginning in 1940, and the AKC followed suit in 1946. The AKC breed names are the Cocker Spaniel (for the U.S. type) and the English Cocker Spaniel (for the British type). A black Cocker named Brucie helped popularize the breed by twice winning Westminster's Best in Show, in 1940 and '41, but the Cocker's American heyday came in the 1950s. The Cocker was the AKC's most popular breed of the decade. It was the era of Disney's "Lady and the Tramp" and Vice President Richard Nixon's Cocker, named Checkers, who helped change the course of U.S. political history. (See the Cocker Spaniel's AKC breed standard for detailed descriptions of the breed's coat colors and patterns.)
Standard
The Cocker Spaniel is the smallest member of the Sporting Group. He has a sturdy, compact body and a cleanly chiseled and refined head, with the overall dog in complete balance and of ideal size. He stands well up at the shoulder on straight forelegs with a topline sloping slightly toward strong, moderately bent, muscular quarters. He is a dog capable of considerable speed, combined with great endurance. Above all, he must be free and merry, sound, well balanced throughout and in action show a keen inclination to work. A dog well balanced in all parts is more desirable than a dog with strongly contrasting good points and faults.
Nutrition
Selecting the best diet can be a matter of trial and for the individual dog. The key is to pay attention to food labels for quality ingredients. The owner can seek advice from their dog's veterinarian regarding any particular sensitivities or needs the Cocker has. Choose a high-quality food and give it a fair tryout. A chicken and rice–based food has long been a good starting point for Cocker food trials, but consider individual sensitivities, likes, and needs. Maintain proper weight, but be careful not to overfeed. Groomers and veterinarians often see overweight Cockers.
Grooming
Cocker Spaniels require regular, thorough grooming. Sessions missed are not easily made up and may result in tangles or mats in the Cocker's coat. A metal, professional-quality dog comb with fine and medium spacing for the teeth is a necessity. You can follow combing with a gentle slicker brush, but the comb is key. Loose hair should be carefully removed with the comb, making sure you are clear and can see through to the skin everywhere. If you encounter snarls, do not pull through; rather, pick snarls apart, starting at the tips of the coat and then comb through. Be cautious when combing ears; the skin at the edges is thin and can be pierced by too-vigorous combing. The Cocker requires thorough bathing with quality dog shampoo. Thorough rinsing and re-rinsing are crucial, as soap residue can cause skin irritation. Dry carefully with a blow-dryer on not too hot a setting. Learn the procedure for cleaning and drying the ear canals. During bathing, check the Cocker's skin for any inflamed spots and get treatment. It is key to learn grooming procedures yourself and/or enlist the services of a professional groomer who likes and is experienced in grooming the breed.
Exercise
The Cocker Spaniel is a sporting breed and should maintain good muscle tone, although the breed is not one that needs a lot of exercise for the purpose of discharging an abundance of energy. Cockers often enjoy getting their exercise by means of retrieving a ball or other toy, or accompanying their people on a walk. They very much enjoy spending time with their people, so walking is a good exercise option. If the Cocker has a canine companion, they can play to exercise each other. The Cocker Spaniel wants to please people and enjoys play, so these are tools you can use to encourage exercise.
Training
Regarding training the Cocker Spaniel, the good news is that in general this is a people-pleasing breed. They want to be "good" in order to please their people, and they are generally sensitive and responsive to correction and a disapproving tone in their owner's voice. Harsh means of correction are not usually warranted, nor are they productive in the Cocker. The breed enjoys the challenge of performance activities, and it is a good idea to try out the available activities and events to see what interests your individual Cocker and follow through with training. Early socialization and puppy training classes are recommended. Cockers are rather easily motivated with food rewards and with play and praise.
Health
The Cocker Spaniel's national parent club, the American Spaniel Club, has a health committee that looks at breed health issues and makes recommendations to breeders for required health testing.The Cocker Spaniel has good longevity. A conscientious breeder can furnish records of the sire's and dam's health testing, for example for hips, patellas, and eyes. Breeders often have years of data regarding testing done in these health areas. Learn from the veterinarian proper procedures to clean the Cocker's ear canals on a regular basis, especially following a bath, in order to avoid infections. Thorough grooming of the Cocker coat will aid in preventing mats, which can precipitate skin problems underneath.
Did you know?
The word, "cocker" comes from "woodcock" - a game bird this breed is known for hunting.